Borromini is a division of VR Group, specializing in the design and construction of molds for pressed glass and plastic materials. Founded in the early 1980s in the province of Brescia, in the 1990s it was moved to its current location in Colognola ai Colli (Verona), where it can count on a covered area of 4,700 m2 and an outdoor space of 6,700 m2.
Glass equipment is to produce portholes for washing machines (for the parent company Vetrerie Riunite), headlights and fog lights for cars, glass for work lights, and high-quality perfumery and tableware products. Molds for plastic materials, on the other hand, are mainly for the automotive lighting sector, where Borromini collaborates with all major players in the industry to make components for all car makers. In particular, Borromini has developed recognized expertise in the construction of multicolor injection molds for thermoplastic material, thermoset molds, and multicomponent plastic-rubber molds.
Thanks to the experience and expertise of its staff, Borromini can support the customer in a highly integrated process ranging from co-design activities (for the mold but also and increasingly for the component) to part sampling.
As far as plastic molds are concerned, the ability to realize and analyze Mould flow simulation (with Autodesk software) allows from the preliminary stages to work on the optimization of the part to be produced and of the mold, to facilitate the customer's production process and the final quality of the product.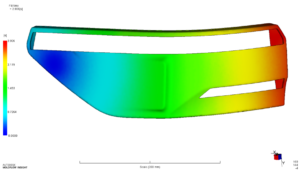 The expertise gained over the years also in quality on molded parts means that Borromini can validly offer itself to its customers also for the molding of medium-small production.